Our İstanbul Support to Life House hosts a series of seminars where women are informed on their basic rights while they can also share their thoughts and experiences freely. Participants Fatma, Dreye, and Salina described the impact of the seminars on their lives to our Outreach Officer Aysen Şeyhan.
Our Support to Life House in Küçükçekmece brings people together in addition to the services it offers. The dialogue established in this safe environment has been ongoing since April 2021. Women come here together one day a week online and sometimes face-to-face. They learn and grow stronger together. This seminar series is organized within the scope of our refugee protection project, funded by the EU humanitarian aid, as the implementing partner of the international humanitarian organization Diakonie Katastrophenhilfe.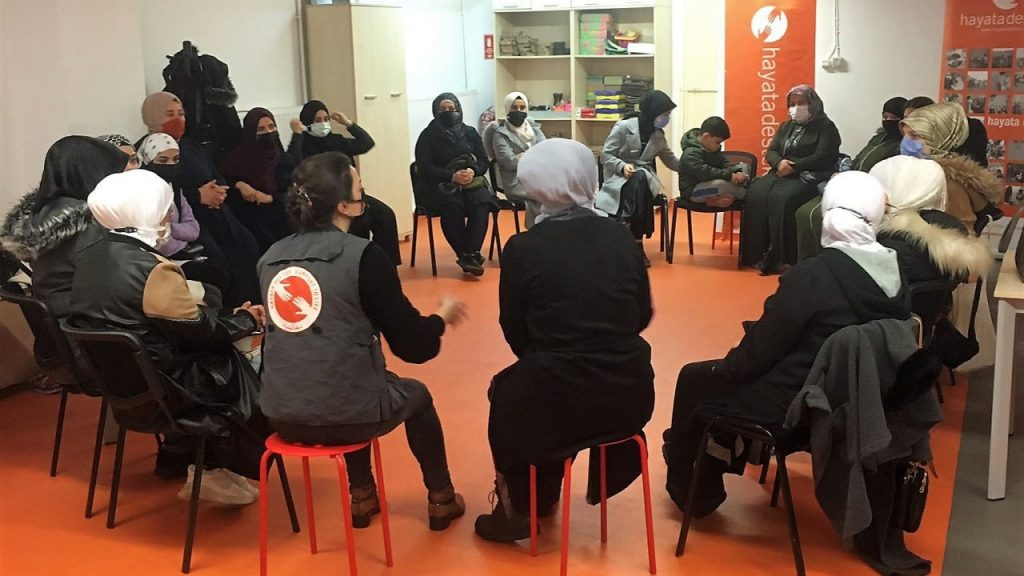 We designed these 'Woman to Woman Seminars' for our Syrian beneficiaries, who often felt even more trapped at home in the post-pandemic period. We observed that many women's participation in social life was very limited, for example due to domestic labor and childcare. That's why we prepared a safe environment for women and provided them information support on the issues they needed. Our lawyer organized legal information sessions while our psychologist offered psychological training sessions. We also organized sessions on women's health. With this series of seminars, we aimed to raise awareness of women, to make this awareness sustainable, and to develop women's solidarity network in the Küçükçekmece area. Now let us hear from Fatma, Dreye, and Salina who are among participants of Women to Women Seminars.
Fatma: "I Learned a Lot About Women's Health Issues"
"I am 53 years old. I am a high school graduate. In 2017, I came to Turkey with my 5 children. I am not employed. I spend most of my time at home, taking care of my children. I wanted to do something useful for myself in my spare time, so I participated in the seminars whenever I had the chance.
The legal issues discussed in the seminars are important to me. We are learning about Turkey's system and our rights as women. Learning this facilitates our adjustment to this country. After attending the seminars, I also invited my daughter, relatives, and acquaintances to the group because I wanted them to have this information as well. Now we have an idea about what to do if we encounter a problem in Turkey. I want the legal sessions to be held frequently because it is very valuable to talk to the lawyer and ask questions.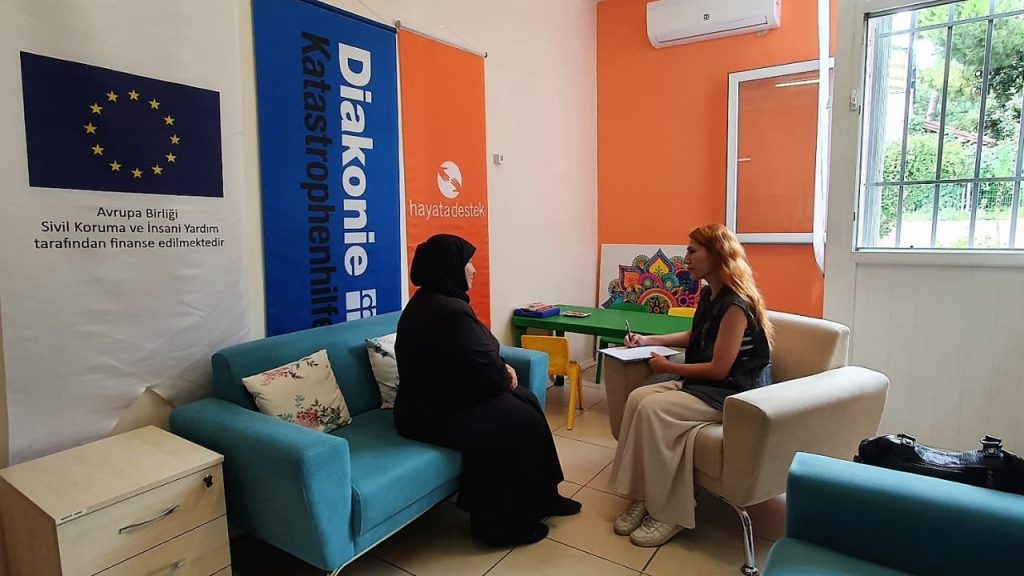 Thanks to these seminars, we also realized that some of the things we assume right were actually wrong. I learned a lot about women's health issues such as contraception methods, early diagnosis of breast cancer, and uterine cancer. Now I know where can I go in case of a health problem and how to self-examine, for example, to detect breast cancer early. The fact that the seminars were open only to women created a safe environment where we could talk about many topics without hesitation. We were able to talk more comfortably, especially on issues that were considered shameful, such as women's health."
Dreye: "I Get Away from My Daily Concerns When I Come Here"
"I am 49 years old, a mother of six children. I came to Turkey in 2014. Since I live in Küçükçekmece, I was already coming to the Support to Life House. I attended Turkish language classes before. I started to meet with the psychologist regularly, I felt better day by day. But receiving psychological support is seen as a shame. In these seminars, psychologists also provide information. There we discussed that we should not be afraid or ashamed of receiving psychological support. We shared our thoughts and experiences. Meeting online is easier for many women, but I like face-to-face seminars the most. There, I get away from the worries of daily life. It is very nice to get together, talk and hear the experiences and thoughts of others. I think we will feel better and stronger if we come together more often."
Salina: "We Actually Have Many Rights"
"I am 36 years old. I have two children; I have been living in Turkey for six years. I'm a psychologist. One day, I saw the e-commerce class announcement of Support to Life on social media, applied, and attended two months of classes free of charge. Then I learned about other activities and information seminars of the association. I was interested and I wanted to be a volunteer. When I was volunteering, I also participated in the Woman to Woman Seminars.
The most memorable topic for me from the seminars is women's rights in Turkey. With the information the lawyer gave, we learned that we actually have many rights. As both a Support to Life volunteer and a participant in the seminars, I shared these seminars with the people around me, so we became a big group.
These seminars must definitely continue. And I have a request, I think learning the language is a major need among Syrian women. Would it not be nice if Turkish language classes started again?"
Aysen Şeyhan
Outreach Officer, İstanbul
Editor: Gözde Kazaz
Communications Officer