Muhammed is one of the participants of the short-term employment project in Adana, which we initiated to breathe life into financial state of vulnerable populations especially during the pandemic. Having to work since he was a child, Muhammed stands tall and strong with his disability. Also he is one step closer to his dreams for future.
We are saying #FutureBetterTogether on June 20 #WorldRefugeeDay and listen to Muhammed's story.
"I was deep into debt before I started working. There were days I could not buy diapers for my 8-month-old daughter. I was relieved when I started working and received my first salary. Money is the biggest problem; when we have money, we have no other problems." That is how Muhammed summarizes the impact of this project on his life. The 25-year-old Muhammed from Aleppo is one of the participants of The Short-Term Employment Project, financed by German Federal Ministry for Economic Cooperation and Development (BMZ) in the scope of PEP – Promotion of Economic Prospects Program and implemented in Adana by Deutsche Gesellschaft für Internationale Zusammenarbeit (GIZ), Support to Life (STL), and Adana Metropolitan Municipality.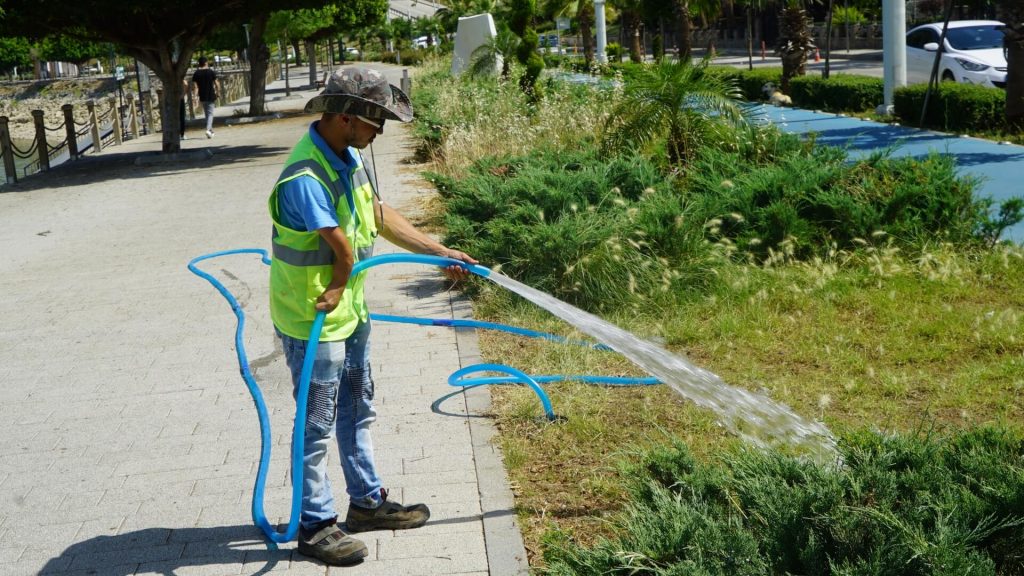 Having to work since childhood, Muhammed wanted to continue his tire repair job, which he learned from his master in Aleppo, in Turkey, where he came in 2011. But this was not always possible. Muhammed went to İstanbul, İzmir, Trabzon, all around Turkey in the hopes of finding a job where he sometimes worked as tire repairman, sometimes as a translator thanks to his fluent Turkish, and sometimes as a bellboy in hotels. But he eventually had to return to Adana where his family was living. This time he had his wife and child with him.
Muhammed is disabled from birth and mentions that in many cities, but especially in Adana he had serious problems finding a job due to the approach towards his disability: "People look down on me and sometimes it becomes hard to work with someone. Especially masters, bosses ask me so many questions about my disability, that drives me mad. For example, they ask 'how can you work in this state?' I do my job well and have no difficulties, because I am used to that. If God takes one thing, he gives another in return. I have my strength. But especially in Adana I could not find a job because of my disability." For this reason, although Muhammed tried to make ends meet by making translations, working on gardens or as porter on per diem, he had a tough period when his debts accumulated and he was unemployed for a long time due to the pandemic. But then his path crossed with Support to Life and its short-term employment project. "This project was a notable support to me" says Muhammed, "when I first started the project I learned about labor rights, occupational safety. But I was already familiar to these because I worked in so many places and they tried to do us wrong at where I worked. That is why I learned the law and knew my rights."
Muhammed now works as a member of the watering team under Directorate of Parks and Gardens in the scope of our joint project with Adana Metropolitan Municipality. He is responsible for watering grasses, trees, and flowers at parks. He works from 7.30 a.m. to 04.00 p.m. After work, he likes spending time with his 8-month-old beloved daughter Hanin that he describes as 'my biggest passion in life'. He says some social relationships he could establish in Turkey were long lived while some faded away. When he is asked 'Do you have any friends in Turkey?' he replies as 'Support to Life team'.
So, what does he want to do in the future? "After this project is finished I want to buy myself a three-wheeled motorcycle and do shipping. I want to succeed for my daughter. I hope my daughter will study at the best schools, eat the finest food, have a car, have nice and decent friends… That is my dream." And he has a request from Support to Life: to create employment opportunities during next short-term employment projects where people can use their vocational skills and improve themselves further.
As Support to Life, we will continue with such projects that we realize with our stakeholders to find a breath of solution to access to livelihood problems of vulnerable groups especially during the pandemic and while doing that, support not only today but also the future of our participants like Muhammed.
Gözde Kazaz
Support to Life Communication Officer
Editor: Çiğdem Usta Güner
Support to Life Corporate Communication Expert